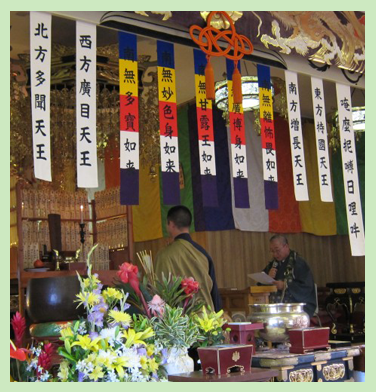 SOTO ZEN
Kaua'i Soto Zen Temple is a Zen Buddhist temple, one of the first two that was established in Hawaii and the Americas (United States) in 1903.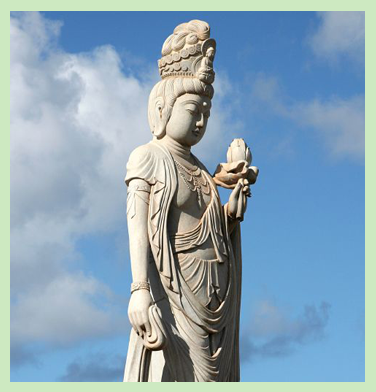 PEACE STATUE
The World Kannon Peace Statue, dedicated to world peace, stand alongside the temple.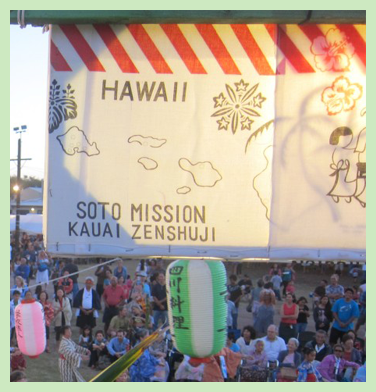 BON DANCE
Kauai Soto Zen holds the largest bon dance on the island. Thousands attend this popular, annual event.
Month of May: No meditation classes. One month break. Please check back for updated information.
Month of June: Meditation classes and sittings to continue.
Sundays: Beginner's class at 10:30 am; regular sitting at 11am
Tuesdays: Regular sitting at 6:30 pm;
Beginners welcomed, come earlier at 6:15 for introduction
Bon Dance Season:
First weekend in June - First weekend in August:
The nine temples on Kauai have their annual festival on a rotating schedule.
August 3-4, Friday-Saturday, Soto Zen Bon Festival 6:00 p.m.- 10:30 p.m.
September 21, Friday: International Day of Peace
September 23, Sunday: Autumn Higan Service, 10 a.m.
December 2, Sunday: Islandwide Bodhi Day Service, 9:20 a.m. Hosted by Soto Zen, at the Social Hall. Guest speaker TBA, public welcomed.
Last week in December (tbd) : Mochi Making Traditional Japanese rice-cakes for the New Year.
December 31: Ringing of Temple Bell, 11:30 p.m. Ring out the old, ring in the new!