---


For the latest COVID-19 information, click the image above.
---
Emergency Rule #19 AMENDMENT #1 (10/16/2020)
Business & Recreational Guidelines Chart (4-Tiered System)
We are currently at Tier 4
Additional Details for Sectors and Businesses
---
August
---
Thursday, August 27, 2020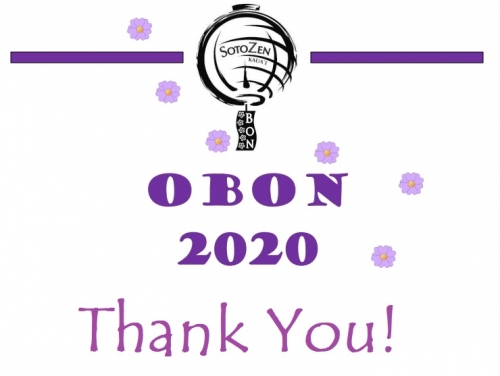 To our many Friends & Neighbors in the Community,
Mahalo! For reaching out and supporting our event.
Your kind gifts of donations and support made our first virtual Bon Dance a success!
Kauai Kookie, Ann Hashisaka
Japanese Grandma's Cafe, Keiko Napier
Kekaha Agriculture Association, Stephanie Iona, Mike Faye
Corteva AgriScience, Laurie Yoshida
Kauai Shrimp, Jim Sweeney, Bob Kanna
Office of Economic Development, Nalani Brun, County of Kauai
Mayor Derek Kawakami, County of Kauai
West Kauai Hongwanji, Rev. Tomo Hojo
Mel Manuel, MNM Business Services
Our many volunteers who pitched in for the videotaping, registration, security, bento pickup
Carla & Omi in the kitchen preparing the bento
MC Ron Wood of FM97, Taiko Kauai, Soto Zen Ondo Dancers, Kauai Ondo Drummers, Rev. Kohtoku Hirao
With Gratitude, Kauai Soto Zen Temple
June
---
Saturday, June 27, 2020
Aloha!
A virtual, online Obon service is planned for August 22, 2020 at 10 am.
On that same date, later in the day, we will broadcast live a virtual Bon Dance activity & fundraiser.
We wil be posting information of the event on this site periodically.
Obon is a time to remember.  It's about family and returning to your home-town.
In that spirit, we will create section on this website called WAHIAWA.
It's about a very special place and time.  Coming soon!
For now, please stay safe and manage yourself well in this pandemic.
Mahalo!
---
Monday, June 8, 2020
Aloha!
We are opening up…slowly.
We hope to start our Zazen meditation practice in the next few months
The large social hall will be used as the Zendo to accommodate safe practices. Stay tuned.
A virtual, online Obon service is planned for August, with information and announcement to follow in the next two weeks.
An interesting online seminar on the current state of American Buddhism takes place at the Buddhist Study Center in Honolulu, June 22.
Check out the information below.
Stay safe.  Questions?  Call 808-346-4650.
Mahalo!
---
May
Friday, May 22, 2020
ALOHA & Greetings!
Today, churches and places of worship are allowed to re-open, in accordance with the CDC guidelines regarding participation
numbers, social distancing, and other safe practices. At Zenshuji, we are planning, preparing, and responding smartly and cautiously.
The Bon Dance season for all temples on Kaua'i has been cancelled. Our Soto Zen Bon Festival was scheduled for June19-20.
We are planning a virtual, on-line Obon memorial service to be held sometime in August. It will also include some online activity and fundraising.
We will keep you posted on our fall and winter schedule.
Mahalo!
Incorporate meditation in your life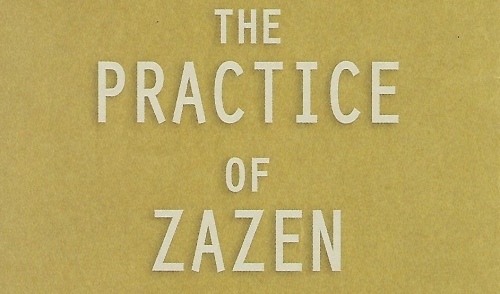 Coming in January
---
DECEMBER:
Traditional Mochi making on December 28th
Ringing of the Temple Bell on New Year's Eve on December 31st
---
Of all of Hawaii's congressional delegation since statehood, Senator Spark M. Matsunaga stands out above all.
A documentary video of his life will be shown on Saturday, October 5, 2019 in Hanapepe.
Take this opportunity to learn about Kauai's native son and his lasting legacy.
---
Each year the International Day of Peace is observed around the world on September 21st. The United Nations has devoted this day to strengthen the ideals of peace, both within and among all nations and peoples.
This marks the 7th year of celebration in Hanapepe, "Kauai's Biggest Little Town." It commemorates the legacy of two local residents whose visions for peace left an indelible mark in our community.
[1] Senator Spark Matsunaga (1916-1990) was born and raised on Kauai, attended Eleele School, Kaua'i HS, University of Hawai'i, and Harvard University. During his many years as a Congressman, he was a longtime proponent of peaceful resolution of disputes and is the founder of the U.S. Institute of Peace in Washington, D.C. At the Spark M. Matsunaga
International Children's Garden for Peace, referred to as "Sparky's Garden," is a statue of Matsunaga. The garden is located at the Storybook Theatre in Hanapepe town.
[2] Reverend Koichi Miyoshi, a resident minister of the Kauai Soto Zen Temple from 1971 to 1998, envisioned a symbol of peace where people would come and pledge that there will be no war on this earth, pray for peace, and remember all who gave their lives in the pursuit of peace.
A World Peace Kannon Statue stands on the temple grounds in Hanapepe since 1991. Rev. Miyoshi felt that the island of Kauai, with its beauty and tranquility, was the perfect setting for this statue.
The 4th Grade students of Eleele School will honor and remember Spark Matsunaga at Sparky's Garden, Storybook Theatre on Friday morning, September 20th. The students' expressions of peace, through song, dance, art, prose, and poetry will be featured at the Saturday event. Over a thousand paper cranes, folded by the students, will decorate the Peace statue.
The gathering on Saturday, starts at 5:00 pm, with food and activity/game booths. Life sized marine life inflatables, costumes gallery; any foot fits by Aloha Slippahs, corn hole toss, origami paper folding, card games; writing personal messages of peace; mix, mingle and share stories of peace with others. View exhibits of Eleele School students' expressions of peace through art, prose, and poetry. Let us know where you are from and mark your spot on a world map!
Others may also gather at the Storybook Theatre in historic Hanapepe town, at 5:00 pm and congregate for the candlelight Peace Walk, starting at 5:30 pm. The walk from Sparky's Garden to the World Peace Statue at the Soto Zen Temple, is a 15 minute march across town, starting at approximately 5:30 pm. The sounds of the temple bell and taiko drumming will greet the walkers upon arrival, who will join the rest of the public.
A celebration of peace will then take place, starting at 6:00 pm on the temple grounds in front of the peace statue. The program & entertainment includes:
• Welcome and blessing + Color guard by Waimea HS JrROTC
• Expressions of peace through performances in music, song, and dance, reflecting our island diversity by various community groups
• Recognition of people, volunteers, veterans, public servants, first responders, national/international service volunteers & others who take an active role in promoting peace, harmony
& goodwill among all people
• A concluding fire-burning ceremony to acknowledge our wishes and hopes for peace
Everyone is welcomed and attendance is FREE to the public. Visitors are especially welcomed!
Food booth donations support Eleele School 4th grade students for their annual off-island excursion.
---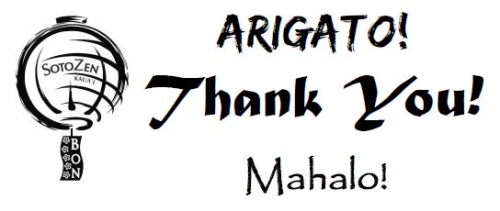 Aloha Everyone!
On behalf of the members of Soto Zen Temple, thank you for helping us make our Soto Zen Bon Festival a special community event. Your generous support through your monetary donations, donated goods, patronage, and attendance is most appreciated. We hope you enjoyed the festival as much as we did hosting it.  Special thanks to the ten craft vendors and food vendors: Special Olympics, WHS JrROTC, Kali Ohana, Chip Wreck, Toots Ohana, Kekaha Hawaiian Homes, Dusenberry Ohana, Kamacho Ohana, Kimo Lazaro Ohana. Credits to our game booth sponsors: Tsunami Taiko, WHS JrROTC, Hirano-Miyashiro Ohana, and Senior Softball.  Appreciation to the many, many volunteers who staffed the  food, drinks, game booths, hospitality/information booth, choba/donation table, and dancers food table.  Acknowledgement to our security guards, parking lot attendants, and trash pickup.  Praise to the  ondo singers and dancers, Kauai Ondo Drummers, Taiko Kauai, Intermission exhibition dancers.  Also, to our benevolent businesses: Service Rentals, Hartung Brothers, J&S Portable Toilets, Pacific Blue Construction, County Parks & Recreation, and National Guard Armory. To Reverend Shuji Komagata for officiating our Bon services. Finally to all of our members and friends who worked so hard to make it an extraordinary event!
With Gratitude, Gerald Hirata, Temple President
---
MAY 31-JUNE 1
SOTO ZEN BON FESTIVAL
Our signature event & largest fundraiser!