---
---
The Kauai 2020 Obon season has been CANCELLED.
Tuesday, March 17, 2020
The Kauai Buddhist Council, which represents the eight temples on Kauai,
have agreed to cancel the 2020 summer Obon season on the island.
In this global pandemic, concern for our island residents' lives and safety
are first and foremost.
---
In addition, all temple public events will be suspended until further notice.
---
---
---
Announcements
---
Thank you for a most successful Workshop this past weekend! (March 14)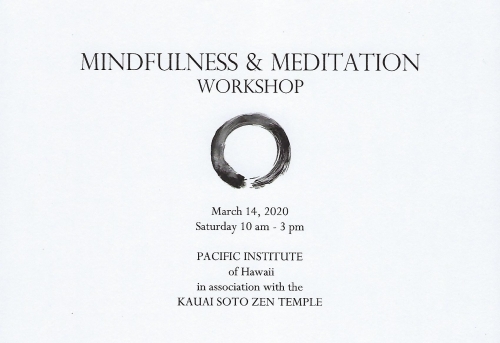 Mahalo to Dr. Harold Hall of the Pacific Institute, Kamuela, Hawaii &
Abbess Hosen Ranger of the Bodhi Manda Zen Center, New Mexico
---
Incorporate meditation in your life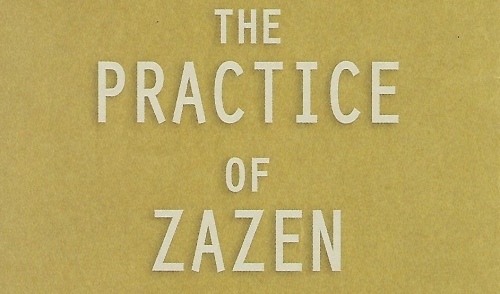 Coming in January
---
DECEMBER:
Traditional Mochi making on December 28th
Ringing of the Temple Bell on New Year's Eve on December 31st
---
Of all of Hawaii's congressional delegation since statehood, Senator Spark M. Matsunaga stands out above all.
A documentary video of his life will be shown on Saturday, October 5, 2019 in Hanapepe.
Take this opportunity to learn about Kauai's native son and his lasting legacy.
---
Each year the International Day of Peace is observed around the world on September 21st. The United Nations has devoted this day to strengthen the ideals of peace, both within and among all nations and peoples.
This marks the 7th year of celebration in Hanapepe, "Kauai's Biggest Little Town." It commemorates the legacy of two local residents whose visions for peace left an indelible mark in our community.
[1] Senator Spark Matsunaga (1916-1990) was born and raised on Kauai, attended Eleele School,
Kauai HS, University of Hawai'i, and Harvard University. During his many years as a
Congressman, he was a longtime proponent of peaceful resolution of disputes and is the
founder of the U.S. Institute of Peace in Washington, D.C. At the Spark M. Matsunaga
International Children's Garden for Peace, referred to as "Sparky's Garden," is a statue of
Matsunaga. The garden is located at the Storybook Theatre in Hanapepe town.
[2] Reverend Koichi Miyoshi, a resident minister of the Kauai Soto Zen Temple from 1971 to
1998, envisioned a symbol of peace where people would come and pledge that there will be no
war on this earth, pray for peace, and remember all who gave their lives in the pursuit of peace.
A World Peace Kannon Statue stands on the temple grounds in Hanapepe since 1991.
Rev. Miyoshi felt that the island of Kauai, with its beauty and tranquility, was the perfect
setting for this statue.
The 4th Grade students of Eleele School will honor and remember Spark Matsunaga at Sparky's Garden, Storybook Theatre on Friday morning, September 20th. The students' expressions of peace, through song, dance, art, prose, and poetry will be featured at the Saturday event. Over a thousand paper cranes, folded by the students, will decorate the Peace statue.
The gathering on Saturday, starts at 5:00 pm, with food and activity/game booths. Life sized marine life inflatables, costumes gallery; any foot fits by Aloha Slippahs, corn hole toss, origami paper folding, card games; writing personal messages of peace; mix, mingle and share stories of peace with others. View exhibits of Eleele School students' expressions of peace through art, prose, and poetry. Let us know where you are from and mark your spot on a world map!
Others may also gather at the Storybook Theatre in historic Hanapepe town, at 5:00 pm and congregate for the candlelight Peace Walk, starting at 5:30 pm. The walk from Sparky's Garden to the World Peace Statue at the Soto Zen Temple, is a 15 minute march across town, starting at approximately 5:30 pm. The sounds of the temple bell and taiko drumming will greet the walkers upon arrival, who will join the rest of the public.
A celebration of peace will then take place, starting at 6:00 pm on the temple grounds in front of the peace statue. The program & entertainment includes:
• Welcome and blessing + Color guard by Waimea HS JrROTC
• Expressions of peace through performances in music, song, and dance, reflecting our island
diversity by various community groups
• Recognition of people, volunteers, veterans, public servants, first responders, national/
international service volunteers & others who take an active role in promoting peace, harmony
& goodwill among all people
• A concluding fire-burning ceremony to acknowledge our wishes and hopes for peace
Everyone is welcomed and attendance is FREE to the public. Visitors are especially welcomed!
Food booth donations support Eleele School 4th grade students for their annual off-island excursion.
---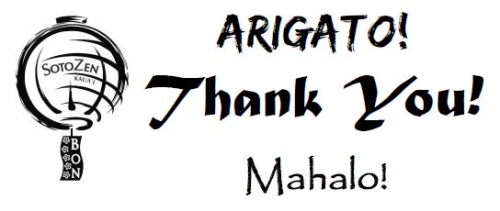 Aloha Everyone!
On behalf of the members of Soto Zen Temple, thank you for helping us make our Soto Zen Bon Festival a special community event. Your generous support through your monetary donations, donated goods, patronage, and attendance is most appreciated. We hope you enjoyed the festival as much as we did hosting it.  Special thanks to the ten craft vendors and food vendors: Special Olympics, WHS JrROTC, Kali Ohana, Chip Wreck, Toots Ohana, Kekaha Hawaiian Homes, Dusenberry Ohana, Kamacho Ohana, Kimo Lazaro Ohana. Credits to our game booth sponsors: Tsunami Taiko, WHS JrROTC, Hirano-Miyashiro Ohana, and Senior Softball.  Appreciation to the many, many volunteers who staffed the  food, drinks, game booths, hospitality/information booth, choba/donation table, and dancers food table.  Acknowledgement to our security guards, parking lot attendants, and trash pickup.  Praise to the  ondo singers and dancers, Kauai Ondo Drummers, Taiko Kauai, Intermission exhibition dancers.  Also, to our benevolent businesses: Service Rentals, Hartung Brothers, J&S Portable Toilets, Pacific Blue Construction, County Parks & Recreation, and National Guard Armory. To Reverend Shuji Komagata for officiating our Bon services. Finally to all of our members and friends who worked so hard to make it an extraordinary event!
With Gratitude, Gerald Hirata, Temple President
---
MAY 31-JUNE 1
SOTO ZEN BON FESTIVAL
Our signature event & largest fundraiser!
Events
ANNUAL BAZAAR-RUMMAGE & COMMUNITY YARD SALE
Saturday, February 29, 2020
9:00 am – 12 noon
---
MINDFULNESS & MEDITATION WORKSHOP
Saturday, March 14, 2020
10:00 am – 3:00 pm
---
RINGING OF THE BELL
New Year's Eve, December 31 at 11:30 pm
In Japan the at the stroke of midnight, temples bells toll 108 times, to ring out the old, and to ring in the new.
Read: "Why 108?"
At Soto Zen Temple we keep this tradition alive.
.
---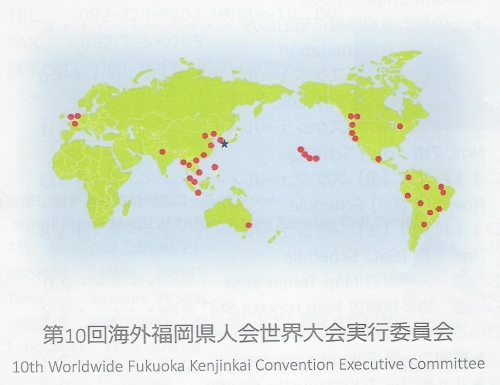 Fukuoka, Japan!
November 6-9, 2019          Worldwide Fukuoka Kenjinkai Convention
Overseas descendants of Japanese emigrants coming from the Fukuoka prefecture of Japan converged in Fukuoka city from all over the world.
There was a large contingent from the Hawaii associations, 14 from Kauai and about 100 from the other islands. A group of 55 from Brazil, 22 from Mexico, 23 from Bolivia, and 15 from Peru led the Latin American delegation. There were many others, from other places as well, such as the Philippines, Thailand, mainland U.S., and Canada!
---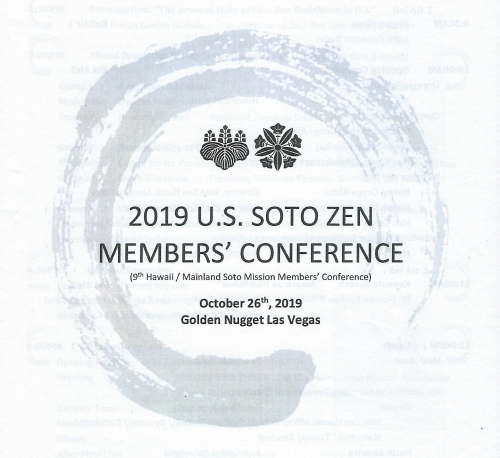 Las Vegas, Nevada October 26, 2019
Nearly 70 members of various Soto Shu temples and Zen Centers from Hawaii and the mainland attended the one day conference at the Golden Nugget, to meet and discuss today's issues. Keynote speaker Dr. Duncan Ryuken Williams, Professor of religion and East Asian languages & Culture at the University of Southern California spoke on "American Buddhism." Rev. Konjin Gaelyn Godwin, Director of Soto Zen International Center discussed "The Present State of Soto Zen Buddism in the U.S." Breakout groups focused on defining American Buddhism, the sustainability, vision and role of U.S. Soto Zen Buddhism.   Program
---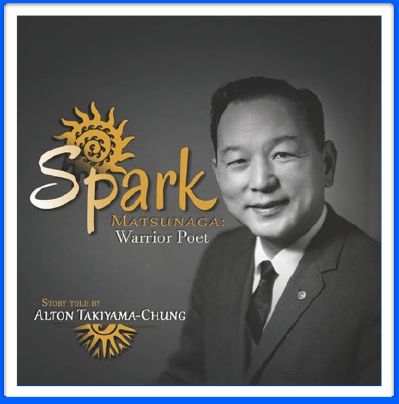 Premiere Documentary Video of "Warrior Poet"
Saturday, October 5th, 2019
Doors Open at 5:30 – Pupus and Desserts
6:15- Program of Guest Speaskers & Video
Read about the video project
Hanapepe United Church of Christ
4481 Kona Road at Kaumualii Highway
Tickets $25
Available at Storybook Theatre of Hawaii, MCS Grill, Banana Patch Studio, On Line @ Eventbrite.com
For more information: 808-346-4650
---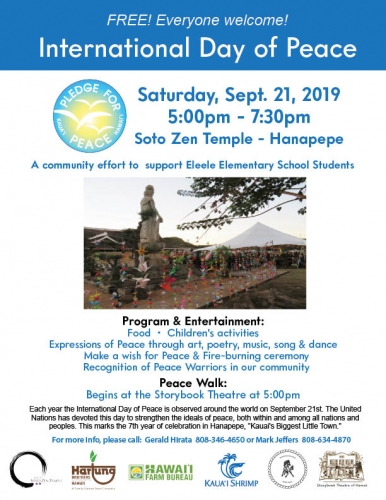 View our evening Peace Program
---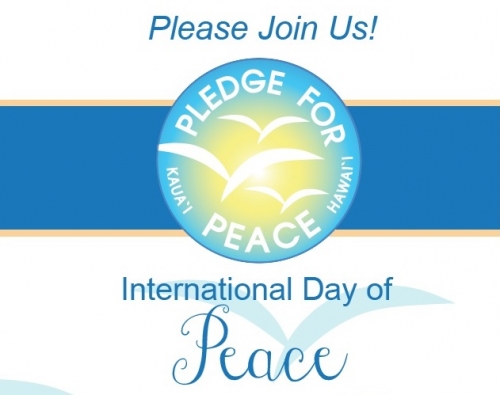 September 21st, 2019
United Nations International Day of Peace
Honoring the legacy of Senator Spark Matsunaga
Hanapepe, Kauai native son
---
Zazen (sitting meditation classes)
We are taking a long summer break, from June to September, 2019
Please check with us again.
---
OUR FESTIVAL & CELEBRATIONS
New Year's Ringing of the Bell
New Year's Celebration
Buddha Day – Hanamatsuri
Bazaar/Rummage Sale
Meditation Retreat
Obon Festival
International Day of Peace
Mochitsuki
Fundraising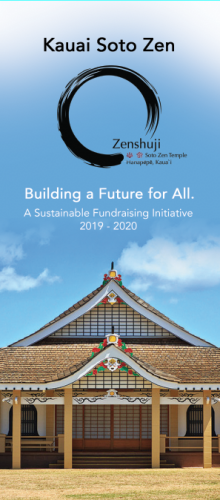 We are kick-starting our fundraising campaign this month (June)!
---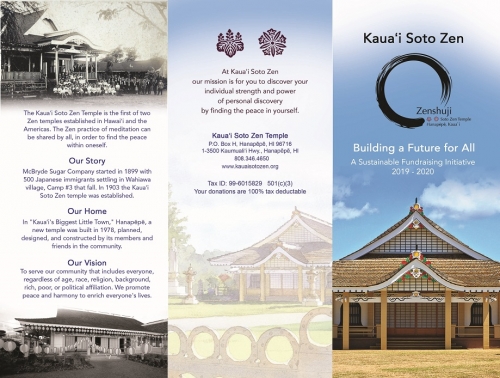 ---