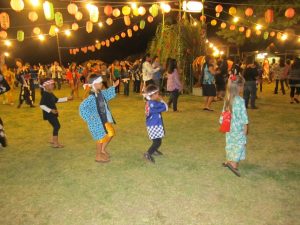 On the island of Kaua'i we want to share our diverse multi-cultural heritage. The Bon (or Obon) festival celebrates our unique Japanese-American folk culture that has evolved in Hawai'i for over five generations.
The origin of Bon occurred when one of the Buddha's disciples danced with joy when his mother's spirit was released from suffering. Hence, Bon is a joyous occasion of celebration, welcoming and honoring ancestors, valuing and appreciating family ties and connections.
Temples hold commemorative services to honor deceased family members.
The nine Buddhist temples on the island have collaborated and scheduled a summer-long season that starts in mid-June and ends in mid-August. Each summer, the schedule is rotated among the temples.
The Bon season is an important expression of religious traditions and Japanese folk culture in Hawai'i.  Typically, a Bon festival includes dancing around a yagura (raised platform) to distinctive Bon odori (dancing) music with live performances in singing and taiko (drumming). Complementing the folk dance are food bazaar, game booths, and other displays of Japanese culture and arts.
The Soto Zen Bon Festival is the biggest event we host all year. We celebrate Japanese folk tradition, island style, that is, the Hawaiian way.